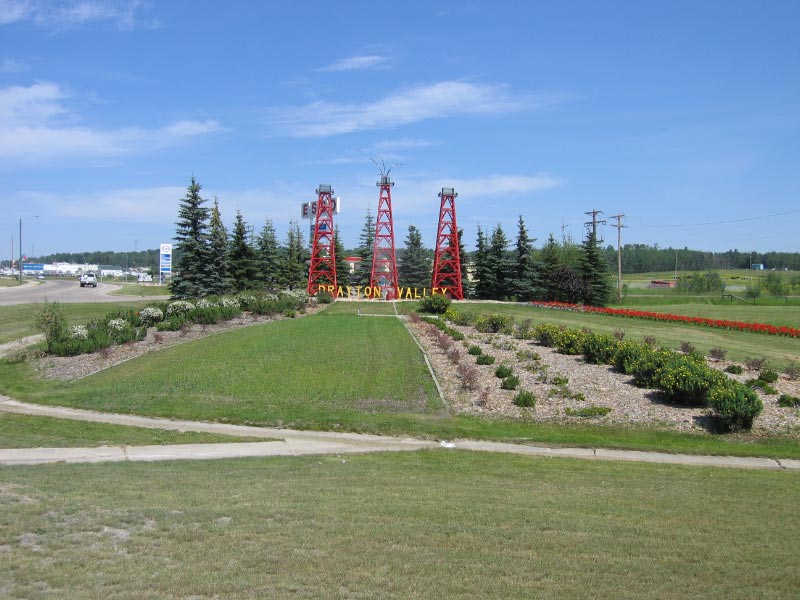 About Drayton Valley
The Town of Drayton Valley is a vibrant and diverse community sitting high above the North Saskatchewan River, where the open plains of the prairie rise toward the rolling foothills of the Rocky Mountains and the boreal forest of the Canadian West. Drayton Valley embraces the best of the modern world while still having a taste of Alberta's Frontier Spirit. This is a place where neighbours become friends and where friends unite to build a community in which we can all share. We are proud of our past and excited about the potential of our future.
Attractions
There are several sites that are a "must-see" in Drayton Valley, either for their sheer beauty or for their rich history.
While driving into Drayton Valley, you may see a lot of pump jacks dotting the landscape. They are an essential part of the town's main industry. If you're interested, follow the sign to the Omniplex off 50th Avenue. As you turn off of 50th Avenue, you will see a large pump jack painted in the colours of the town.
Or if you're looking for an atmosphere of tranquility, check out our parks and trails. Feel free to relax in a gazebo overlooking the pond or have a picnic at Lions West Valley Park. Walk the extensive trails and get the full experience of the town.
Fancy yourself a history buff? Check out Drayton Valley's museum. It's run by the Historical Society so you're bound to learn a thing or two. The museum is next to the RV campground just off Highway 22.
Drayton Valley's arts community is thriving. The various arts and cultural organizations operate as the Cultural Association of Drayton Valley, and include Pipes and Drums and a theatrical guild. The Kinsmen Performing Arts Festival is held in the spring of each year to showcase our local talent.
The Cardium Movie Theatre is "Home of the best popcorn in town." It has a state-of-the-art sound system and Thunder Alley, a six-lane bowling alley. It is wheelchair accessible.
Drayton Valley is also home to many different annual events, including the Drayton Valley Bench Fair, Trade Fair, the Brazeau County Fair, Canada Day, and the "Thunder in the Valley" Drag Races. There are also many agricultural events, including rodeos, livestock shows, light-horse competitions and, of course, the Farmers' Market every Wednesday at the Omniplex.
There are also many must-see sites within Brazeau County. Some points of interest include the Brazeau Snowmobile Club Trails, Rotary Trails, the Discovery Well, the Ungers Sawmill, Centennial Lumber, the Nova Pipeline, the Brazeau Lookout, the Osprey Nesting and Heron Colony and the Jackknife Springs.
Check the Brazeau Regional Tourism website for other things to see and do. You can also learn more about the area by visiting the Grande Alberta Economic Region website.
(Courtesy of draytonvalley.ca)
Drayton Valley Homes For Sale